If you are currently renovating your home in South Wales, there are many decisions you have to make. In this post we will help you answer one specific question, should you choose a composite door or UPVC door for your home renovation? Firstly though, let's explore what the differences are between these two door types.
UPVC Doors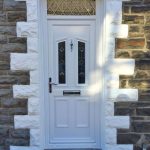 Unplasticised Polyvinyl Chloride, also known as UPVC is a material used for many products including windows pipes and doors. It is made out of thermoplastic material which is rigid and therefore ideal for a secure door. To add further reinforcements manufactures also add galvanised steel to the outer level.
We asked our customers in Bridgend why they chose UPVC doors and they told us their new doors were affordable, secure and energy efficient.
Made with easy to clean plastic, they come in a range of colours and styles and it's easy for customers to pick what fits in with their home.
As a material, UPVC became popular in the 1980's as a popular alternative to wooden doors. They were initially quite expensive but as they became more mainstream the price dropped and now they provide a very affordable option for those looking for an inexpensive, safe new door.
Although they are generally secure, the level of security they offer does differ. The quality of materials and the way the door is hung matters, but the most common weak spot is the lock. Even the most superior UPVC door won't be effective if the lock is of a low standard.
Composite Doors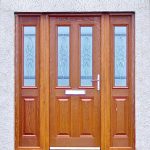 UPVC were an evolutionary step up from the wooden door. The composite door goes further. The newest in door technology, the composite door was designed to combat the flaws in doors made of one main material. These doors are manufactured using a variety of different materials that are pressed down before being glued.
Each material selected has been specifically chosen for its unique properties and the combination of them is complimentary.
Obviously, it's worth keeping in mind that even composite doors can vary, depending on the quality of the materials used and how well it's been fitted. When shopping for doors its always important to find a reputable company in South Wales who will give you the best advice, quality doors and professional service. 
When done to a high standard, composite doors are durable, secure and weather resistant. Many of the homeowners we speak to in South Wales prefer composite doors because they look more natural that the UPVC alternative which contains more plastic, especially if they are aiming to make more environmentally friendly choices.
How do I choose between composite and UPVC?
Answer our questions to help you decide…
Are you trying to reduce plastic use?
Composite doors still contain plastic but considerably less than UPVC.
Are you on a tight budget?
Composite doors generally cost more than UPVC. Although the price still varies greatly based on quality, you will find lower cost doors are made of UPVC.
How long do you want them to last?
Composite doors last longer than UPVC. This is because of the variety of materials and the way it is manufactured using high pressure.
Here at FutureGlaze we provide both UPVC and composite doors for our customers in Bridgend and the South Wales area. We spend time talking to our customers first and give them an honest and informed assessment of the choice that is right for them, their home and their budget. We also provide high-quality secure locks and features that enable our clients to make the most out of their new doors for years to come.
Call 01443 423 423 now for a free, no-obligation quote or fill out our quick no-obligation quote form now!