How much is a typical front door?
If there's anything we at Futureglaze have learned from our decades operating in areas throughout South Wales, it's that there's no such thing as an off-the-shelf front door price.
This is simply because the needs and tastes of homeowners are inherently unique, being the result of a combination of factors including material, style, colour, and security hardware.
We're proud to offer homeowners in Cardiff, Swansea, and throughout South Wales a stunning range of replacement front doors. Our options cover uPVC, composite, and aluminium materials and are available in a huge selection of styles and colours, meaning creating a breathtaking entrance that perfectly complements your home is easy. 
Why do front door prices differ?
From affordable but effective uPVC front doors to composite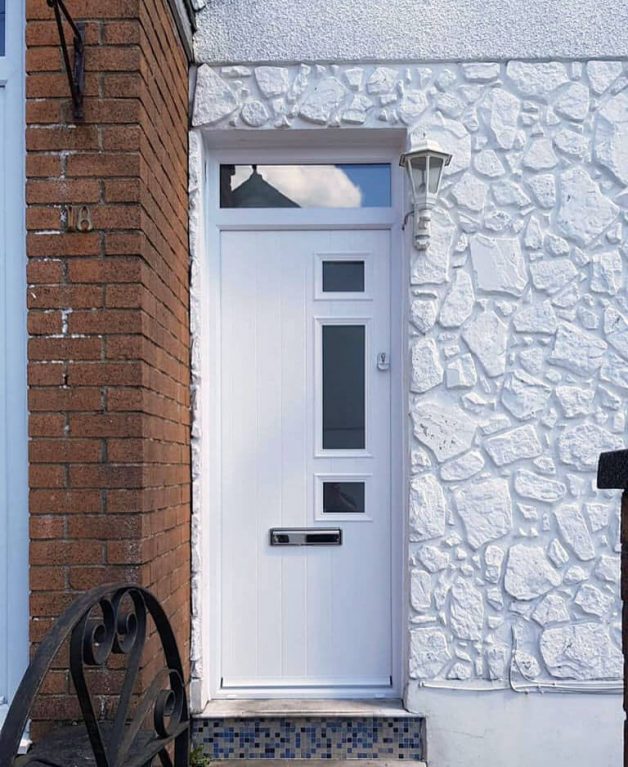 doors that give off the authentic appearance of timber but deliver year-round impressive performance to ultra-modern aluminium entrance doors, no two front doors are the same, meaning there's no such thing as a one-size-fits-all front door price.
At Futureglaze, we don't advertise specific price bands on our website, instead we encourage homeowners in South Wales to contact us directly for a professional quote. That way, we can discuss all the details to ensure an accurate price based on the exact specifications you're looking for.
Every front door we install is different (and unique to you), meaning you can rest assured you're getting the best possible solution for your home and your budget. All our doors achieve remarkably low U-values to keep your home energy efficient, regardless of material or design. You'll enjoy year-round peace of mind knowing that your investment has resulted in a more energy-efficient home that stops heat from escaping and can even help to lower your energy bills. 
With most domestic burglaries occurring through the front door, too, we take it upon ourselves to always offer homeowners the very best in front door security. True, some door types are inherently more secure than others, but depending on your budget, effective anti-thief hardware can be integrated to give your home the ultimate defence. 

What affects new front door prices?
Thermal performance: Exceedingly low U-values and A-rated energy performance are easily achievable with any front door from Futureglaze. 
Colour and finish: It doesn't matter the age or style of your home, we'll have a new front door that perfectly suits you.  All our front doors can be finished in modern colours like Steel Blue or more traditional wood-effect finishes like Irish Oak, plus a whole raft of beautiful colours and textured options in between.
Front door material: We at Futureglaze offer three main front door styles:  uPVC, aluminium, and composite. All three offer specific advantages depending on your needs and budget. 
Guarantee: A lengthy guarantee – for both the product and the installation – is a sign of high quality, and can be reflected in the overall price. At Futureglaze, our doors come backed by a 10-year guarantee to provide homeowners with peace of mind. 
Door price FAQs
How much does it cost to replace a front door in the South Wales?
A: The cost of replacing a front door depends on various factors, such as the size, style, material and security of the door, as well as the installation fees. Prices can range from a few hundred to several thousand pounds depending on specifications. The only way to get an accurate price is to get a professional quotation.
How can I get a quote for a new front door from Futureglaze?
To get a quote for a new front door from Futureglaze, you can either book an appointment online or visit our showroom in South Wales, where you can see our fantastic selection of up-to-date designs and styles on show. Our friendly team of professionals will be happy to advise you on the best options for your home and provide you with a free, no-obligation quote. We are also accredited by quality-assurance champions FENSA, CHAS and Construction Line, so you can trust us to deliver high-quality products and services
What are the benefits of choosing a composite door?
A composite door is made from a combination of materials, such as wood, glass-reinforced plastic and foam, that offer strength, durability, insulation and security. Composite doors can be designed to look like traditional wooden doors, but they are more resistant to weathering, warping and fading. They also come in a variety of colours and styles to suit your preferences and budget. At Futureglaze, we offer a range of composite doors that are energy-efficient, low-maintenance and secure.
Design your door