We'll help you select the products that are right for your home…
Contemporary or classic. Simple or ornate. Doors and windows come in all shapes and sizes, not to mention styles, colours and finishes. Whether you're looking for a simple, elegant style, or a more ornate design, with decorative glass, panels or hardware. Whatever you go for, our doors and windows not only look fantastic, they last for years. So as well as enhancing your environment, you'll be adding value to your home.
We have a huge range of front doors on offer – Take a look at examples below to see which would be the best type for your home.
Our Composite Doors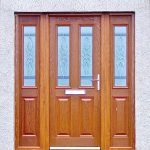 Durable and attractive, our composite doors are made to last. These doors are the future of entrance doors, are manufactured to the highest standard and use the best materials available. We fit them with a Yale locking system for ultimate security, and they're manufactured in accordance with 'secure by design' which is a UK police initiative with strict guidelines for security. Our Composite doors are produced using robust through-colour GRP door skins, giving an attractive grain. These GRP skins are very resistant to knocks, scratches and whatever the weather throws at them. Plus, they'll never twist, warp or split.
Our UPVC Doors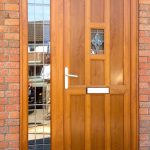 A perfect external door will enhance your homes appearance and help increase its security and energy efficiency. With our industry leading Yale branded 10 point locking system, your UPVC front door will have never felt more secure and safe. Our UPVC front doors are perfect to be used as either a front or a back door. Front doors can be fitted with a decorative UPVC panel that is MDF reinforced and available in a vast selection of styles.
​We can also use decorative glass designs such as bevels and stained glass. All our UPVC doors come with a choice of black, white, gold or silver furniture, which you can choose to enhance your chosen glass or panel design. All our UPVC doors are equipped with draught free Q-Lon seals and internally beaded for extra security.
​Our friendly staff are always happy to help and advise – Give us a call, fill in a contact form, or pop into our Rhondda-based showroom for a better look at our stunning products.