Walk down any street in the UK and it's highly likely that at least a few of the properties will have uPVC windows and doors. Since the 1980s, uPVC glazing products have skyrocketed in popularity. Their high-performance design, low maintenance finish and attractive appearance have been a hit with homeowners seeking to improve their home's performance.
In recent years, modern technological advancements have seen uPVC windows and doors vastly improve in their performance capacity. With a nationwide drive to reduce carbon emissions and become more environmentally aware, the glazing industry has had to find ways to produce more energy-efficient products. Today's uPVC windows and uPVC doors are vastly superior to their 1980s counterparts and offer homeowners a wealth of benefits. If you're thinking about replacing your windows and doors, read on to find out how new windows and doors can improve your home's performance.
uPVC windows features and benefits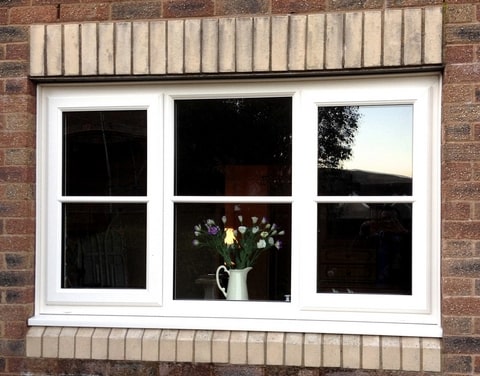 When you choose to replace your windows with uPVC windows from Futureglaze, you unlock a wealth of benefits. These include:
'A' energy efficiency rating – better insulation equals a warmer home with a more comfortable living environment and potential to save money on lower energy bills.
Weatherproof exterior – strong and durable, our uPVC windows will protect your home against even the harshest of the British weather.
Low maintenance finish – with only the occasional wipe down with warm soapy water your uPVC windows will continue to look and perform like the day they were installed for many years.
Superb security – with internal beading and high performance locking systems as standard, our uPVC windows will resist any attempts at forced entry.
uPVC doors features and benefits
uPVC doors are a great addition to any property. Strong and attractive, they'll protect your home from the elements and any break-in attempts while making your home's exterior the envy of your neighbours. With uPVC doors from Futureglaze you get:
An extensive product choice – from uPVC front and back doors to a selection of patio door options including bi-fold, French and sliding, there's a door in our collection for every installation.
Multi-point security locks – at Futureglaze, all our entrance doors are fitted with Yale 10-point locking systems for the best in home security.
Enhanced insulating capacity – our uPVC doors provide outstanding levels of both thermal and acoustic insulation for a warmer, quieter living environment.
Several stylish colour options – From fresh white or cream to classic Chartwell Green and stately black, our uPVC doors can feature realistic woodgrain finishes with the option of dual colour for a different colour on the interior and exterior.
As you can see, uPVC windows and doors bring an abundance of benefits for any homeowner. If you're thinking about any home improvement projects then a window and door replacement is an excellent option. Replacing your windows and doors with new uPVC alternatives will greatly improve your home's performance and add value to your property's market price.
For more information about uPVC windows and doors from Futureglaze call 01443 423 423 or contact us online.