We want to take this opportunity to examine the question of whether wooden front doors are secure. In short, yes they can be. However, it must also be remembered that there are other types of doors available that can offer enhanced security.
According to South Wales Police,
"Your home is only as secure as its weakest point of entry. That's why it's so important to have doors and windows that are as secure as possible".
So whether you live in Cardiff or Bridgend, or anywhere across South Wales, it's vitally important to have a secure door on your home, whether this is wooden or another type.
In this article, we will first take a look at the ways to make a wooden door secure, and then examine other types of doors available that offer good security for your home.
Improving Security of Wooden Doors
Lock Your Doors!
It may sound obvious but make sure you lock your doors at all times. Even during the daytime, there could be opportunist thieves who may try their luck to see if any properties are left unlocked, even if you are home. Get into the habit of being secure in your home regardless of the time of day.
If you are worried about losing your front door keys when you are out you could try installing a key safe in a discreet location in your garden, for example.
Install a Deadbolt
To improve security overnight whilst you are at home, you could install a deadbolt. If you place this at the top of the door, away from the letter box or any windows the door may have this will add extra strength to the door should an intruder try to break in.
A deadbolt will be more secure if you have a solid wooden door. If you have a hollow wooden door, we would highly recommend upgrading to either solid wooden or another more durable material such as a composite or UPVC door.
Avoid Having Windows in Wooden Doors
Although windows in wooden doors can look really lovely, your home will be more secure if you go windowless! Intruders are more likely to be able to break through glass quietly, meaning they can do this without being interrupted. It could them potentially be easy for them to reach in and open locks from the inside to gain entry to your home.
Other Types of Doors Available
Composite Doors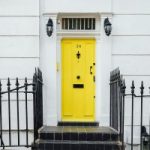 Composite doors are a great choice for any home from a security perspective. Here at Futureglaze we fit them with a Yale locking system for ultimate security. Our composite doors are also manufactured in accordance with 'secure by design' which is a UK police initiative with strict guidelines for security.
Available in a wide choice of colours with an attractive finish, these doors are a great choice for the style and security aware customer.
UPVC Doors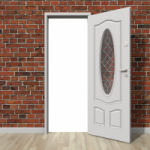 Another great choice for enhancing appearance as well as security of your homes is an external UPVC door. At Futureglaze we use an industry leading Yale branded 10-point locking system for all our UPVC doors, so you can be safe in the knowledge that your home will be secure – providing you use the lock!
For added security our UPVC front doors can be fitted with a decorative UPVC panel that is MDF reinforced and available in a vast selection of styles.
If you would like advice on how to make your wooden door more secure, or if you'd like to explore the option of replacing for composite or UPVC please get in touch with our team by calling 01443 423 423