As the nights draw in and the leaves begin to fall, Autumn presents the ideal opportunity to improve your home's energy efficiency before the cold air creeps in. Harvest time is associated with abundance, prosperity, and wealth. So, what better door material is there than aluminium to give your South Wales home a contemporary, affluent flourish that's sure to turn heads?… Accounting for around 59% of all bifold door sales, according to Palmer Market Research, it's clear to see that aluminium doors are a worthwhile addition to any home in need of a slender, enlightening, and long-lasting entranceway.
At Futureglaze, we install a range of striking aluminium doors across South Wales. From impressive aluminium front doors to fashionable aluminium bifold doors, and cutting-edge aluminium French doors to slender aluminium sliding patio doors, aluminium has become the door material of choice in a variety of modern and traditional settings. Offering limitless design possibilities and being able to add considerable value, let's look at 5 advantages to upgrading tired entrances with alluring aluminium doors.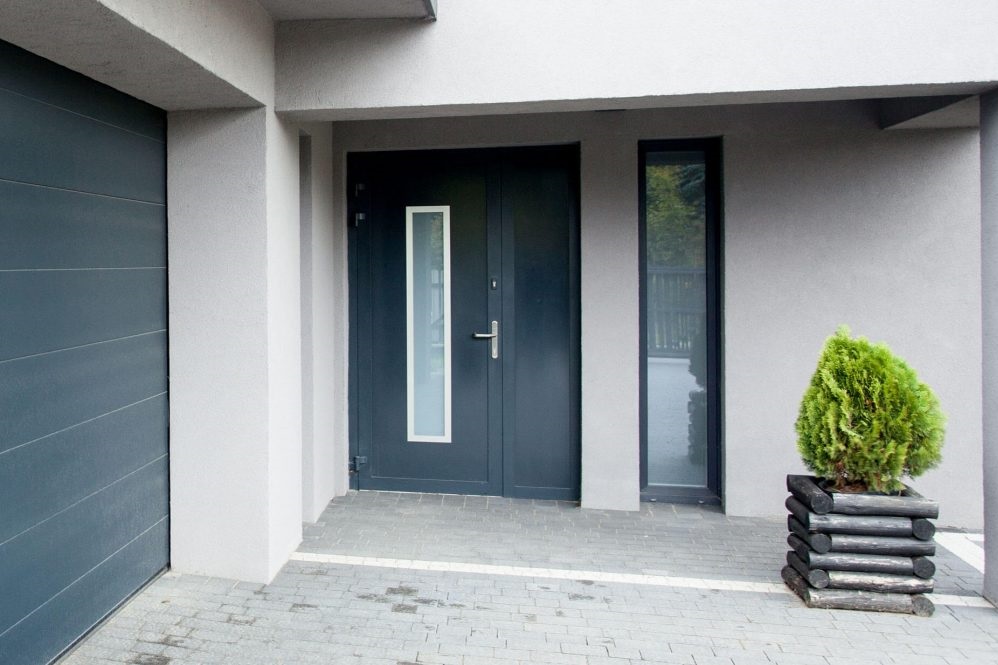 Aluminium doors are elegant & sleek
Architects and homeowners are drawn to aluminium doors for a variety of reasons, most notably the way they look. Firstly, when it comes to installing the slimmest sightlines possible, nothing beats aluminium. Secondly, adding an unmatched air of sophistication and elegance, the way aluminium doors effortlessly deliver the on-trend 'more glass, less frame look' is a sure-fire way to brighten up any space whilst simultaneously adding a unique contemporary twist.
Aluminium doors offer limitless customisation
With a wide range of finishes, glass, furniture, and hardware to choose from, the end product that can be created with aluminium doors is truly spectacular. From chic Anthracite Grey aluminium doors to classic white aluminium doors and everything in between, we can even colour-match aluminium door hinges and handles! Thanks to advances in technology, the possibilities are virtually endless with a Futureglaze aluminium door installation.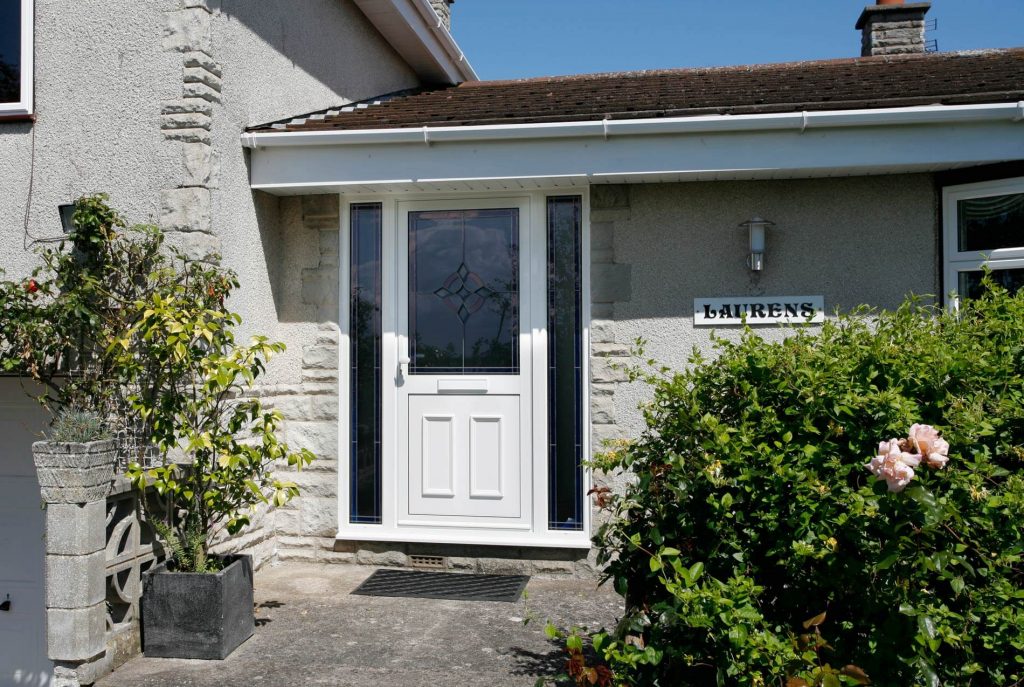 Aluminium doors can be enjoyed for decades to come
Other than wooden doors, aluminium doors offer amazing, long-lasting qualities – enduring up to 45 years with little maintenance involved. For absolute peace of mind, our aluminium door products utilise a high quality polyester powder coating that provides effective protection against corrosion and fading.
Aluminium is secure & strong
Providing a high strength-to-weight ratio, it may surprise you to learn that aluminium is three times stronger than timber. Very strong yet lightweight, aluminium is one of the strongest door materials available to date. Aluminium doors can also be made around 30% bigger than composite doors, making it the ideal door material for larger projects that require stunning floor to ceiling double glazed doors.
Independently tested for critical aspects of security, our aluminium doors' hinges, locks, handles, and glazing are all checked not just once but time and time again for consistency and quality too. Another benefit of aluminium doors is that they won't warp in different weather conditions, making them ideal for minimalist coastal homes in South Wales.
Aluminium doors are sustainable & efficient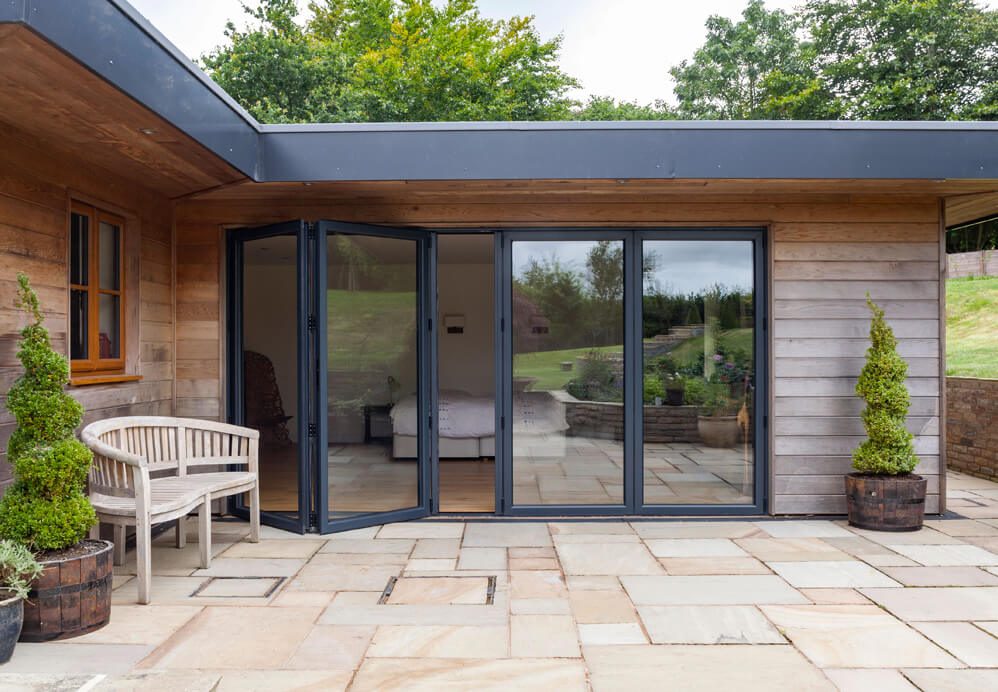 Did you know around 75% of all the aluminium ever created is still in use to this day? Arguably one of the most sustainable building materials in the world, aluminium can be fully recycled with absolutely no loss of function whatsoever.
Furthermore, a long-standing misconception about aluminium windows and doors we'd like to challenge is how they're "not as energy efficient as other construction materials". Utilising innovative polyamide thermal break technology, modern aluminium doors expertly create an effective barrier between the cold air outside and the warm air inside whilst effectively dampening exterior noise too. Reducing heat loss and enhancing the overall U-value of the product, exceptional energy ratings are within reach with our eye-catching collection of aluminium doors.
Aluminium doors vs composite and uPVC
In conclusion, here is a helpful comparison table you can quickly refer to when making your choice.
Aluminium doors
Composite doors
uPVC doors
Slimline
✔️
❌
❌
Low maintenance
✔️
✔️
✔️
Double glazing
✔️
✔️
✔️
Triple glazing
✔️
✔️
❌
Energy efficiency
Innovative thermal break technology
Solid core/GRP foam-filled panels
Multi-chambered profiles
Security
Winkhaus Key-Wind multi-point locks
Multi-point locks
Yale 10-point locks
Colours
Bespoke RAL colours, woodgrain effects, dual colour options
Bespoke RAL colours, woodgrain effects, dual colour options
Standard white, 3 woodgrain effects &
8 special foils
Lifespan
45 years
35 years
20 years

Attractive aluminium doors in Cardiff and South Wales
Installing SMARTS, REAL Aluminium, and Hallmark aluminium doors, if you'd like to learn more about our aluminium door products or any of our other high performance home improvement products, visit our extensive double glazing showroom, give our team of experts a call on 01443 423 423, or contact us online.
Related reads:
Which material should I choose for my new front door?
Architects always choose aluminium, and you should too!