Every home has a different character, and every homeowner a different style. When it comes to replacing your windows, it's all about choosing the right combination of frames and glazing that will not only be to your personal taste but will also complement your home's unique features. We understand how important this is and how time-consuming it can be when choosing replacement windows – your new windows will last for decades to come, so it's essential you're extremely happy with them from the outset!
Whether you have an ample 4-bed Victorian house in Cardiff and you'd like to keep the elegant charm of your timeless sliding sash windows, or you're renovating a home in Swansea to have a more modern appearance and require modern aluminium casement windows, we are here to help! With a range of RAL colours and 4 window styles to choose from, you'll be sure to find a combination you love!
Although, you may be left wondering, 'which style of window is right for me?' As an award-winning family-run business with over 30 years of experience, we are here to assist you in making the correct decision. For your ease, we have explained the most popular window styles below.
Different styles of windows to suit any South Wales home
Simplistic Casement Windows
A style that has been popular among homeowners for centuries, casement windows effortlessly enhance the exterior of any home, no matter the age or style of the property. Attached to a sturdy frame by one or more hinges, the casement window has a user-friendly opening mechanism. Typically, casement windows open outwards, away from the home, and can be designed to open from the left, right, or from the top.
The top hung or awning casement window is perfect for wet climates as they stop the rain seeping through when left open. You can tailor this window to be as modern or as traditional as you like. Choose slimline black aluminium window frames to complement contemporary contours, or for a more timeless look, you could opt for uPVC timber-effect Chartwell green frames, with beautiful decorative glazing.

Flush Sash Windows
Flush sash windows have the same opening mechanism as a casement window but feature a closed frame that creates a flat exterior surface. The design of the window is extremely elegant, and the smooth aesthetic is highly sought after. On the internal side of the window, it looks very similar to a casement window, but the exterior has a heritage and minimalistic appearance.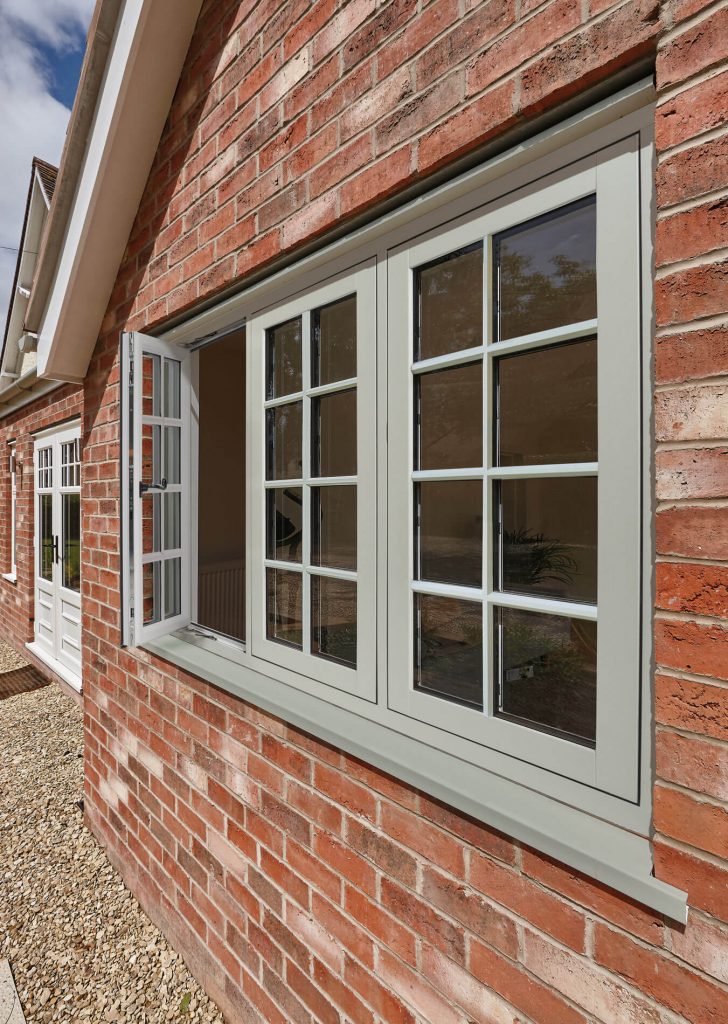 Timeless Sliding Sash Windows
This classic style of window became popular in the Georgian period and was the choice of window for the two centuries that followed. Today, sliding sash windows are still popular among homeowners of traditional properties and are even used in new build developments to add classical character to 21st-century homes.
As this window style has a unique vertical opening mechanism, there is also a bespoke range of window furniture to choose from. The furniture has been carefully designed to replicate original features and includes sash horns, sash pulls and Brighton fasteners.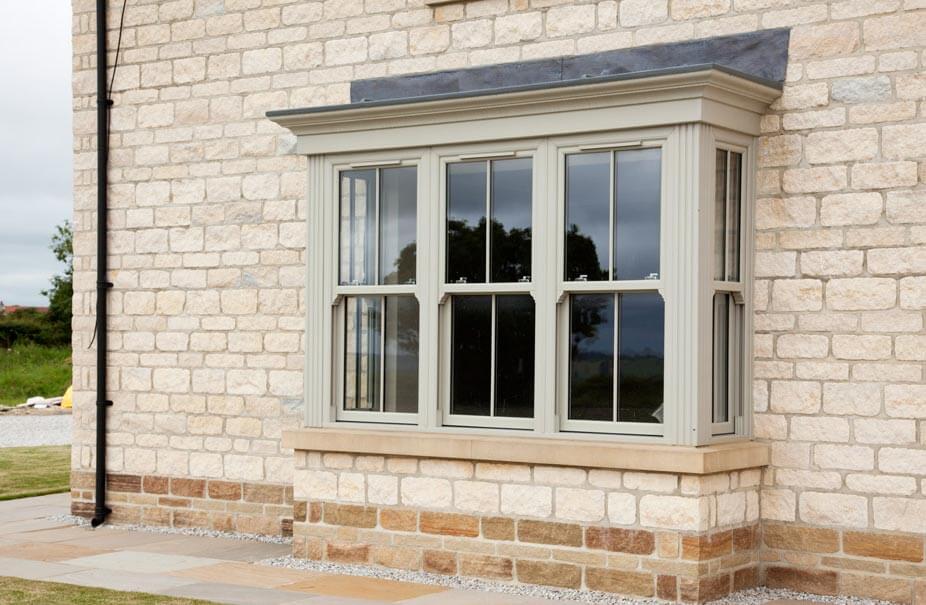 Classic Bay & Bow Windows
Bay windows have a distinctive design and can add additional living space to your home. The protruding design allows a wealth of natural light to flood your home and creates an airy and bright environment.
With two materials available, and either double or triple glazed panes, you can be sure to get a made-to-measure design that will add a stunning feature to your home. We can include decorative glazing, such as textured or etched glass, and any of our window furniture pieces for the finishing touches.

How do I choose new windows?
Now you've learnt a bit more about the top window styles, you might be wondering how to choose the right style for your home. We've covered several aspects to help you choose below:
Style of home
An important consideration is to think about the style of your home because ensuring the new windows are suitable for it is especially important where resale value is concerned. So, for a period home, for example, you might consider sliding sash windows, or for a newer home, you might think of opting for casement windows.
Window colour and furniture
Your chosen colour and window furniture will also help determine the suitability of new windows. For example, Chartwell Green is great for country cottages and older homes, and Anthracite Grey adds a more contemporary edge. Monkey tail window handles and stays also add a traditional edge to casement windows.
Material
Aluminium windows are slimmer than uPVC windows, for example, and the slim frames give them more of a contemporary look. However, uPVC windows are more cost-effective, so might be better if you're on a budget.
A range of window styles, colours, and finishes to suit every home in South Wales
Spend some time thinking about the style of your new windows, as well as the material, colour, and furniture. A range of RAL colours can be applied to our windows, giving you the freedom to create a stunning design that suits your home. From charming Chartwell green to modern, sought-after shades like black & Anthracite Grey, we can easily match the colour of your existing windows or give your exterior a new, fresh appearance!
Contact us today or call us on 01443 423 423, and one of our glazing experts will be able to tell you more about our premium window range and answer any more questions you may have.
Related to this post:
Aluminium windows: features and benefits
10 window and door trends that are here to stay
uPVC windows and doors: the perennially popular home improvements